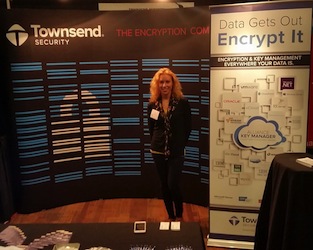 More Questions from the Tradeshow Floor

(Part 2)
In our last blog we touched on a few of the questions asked at events we attended in November. There were so many great conversations that I've decided to share a few more!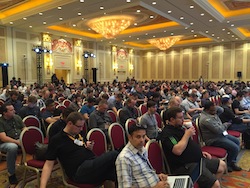 With the various platforms that I can deploy an encryption key manager in, how do I know which one is right for me?
There are several factors that will come in to play when deciding where you deploy your key management:
Compliance regulations that you need to meet can be a factor in whether you deploy an Hardware Security Module (HSM) or a cloud HSM or a virtualized instance. If you are working with an auditor or going through a QSA audit, you'll want to have a conversation with them to understand their expectation from a compliance point of view around where you deploy your encryption key manager.
Risk tolerance will also come into play. You may have a security group within your organization with strong feelings about how to deploy encryption key management and how to mitigate risk. If you have large amounts of sensitive data to protect you might decide to deploy an HSM in your secure data center. If you're dealing with a very small amount of data and you do not process credit cards or personally identifiable information, your risk assessment may indicate a cloud deployment.
Budget is certainly always a factor to consider. It is important to consider the cost benefits of security however, we all understand that leaving our data in the clear is no longer an option. It is a matter of understanding your industry regulations and risk assessment, then deciding what encryption and key management to deploy.
While they are generally the most secure solution, Hardware Security Modules (HSMs) can be more expensive than a virtual environment, dedicated cloud instance, or virtual private cloud. Once you look at all the factors that affect your company, we will be there with the right solution that will work for your needs.
Tell me more about all these different options you have for the Alliance Key Management Solution… are they all going to help me meet compliance requirements?
There are still our original hardware security modules (HSMs) and now there are new options for deployment of cloud-based HSMs, virtual appliances (VMware), and true cloud instances of encryption and key management in AWS and Microsoft Azure.
Hardware Security Module (HSM) is a physical appliance or security device that is protected and tamper evident. Built for high resiliency and redundancy it has hot swappable rated disc drives, dual power supplies, dual network interfaces, and is deployed in your IT data center.
Cloud HSM is a physical appliance hosted in a secure cloud with real-time encryption key and access policy mirroring. Dedicated HSMs are hosted in geographically dispersed data centers under an ITIL-based control environment and are independently validated for compliance against PCI DSS and SOC frameworks. No access is available to the cloud vendor or any unauthorized user.
Virtual Appliances are the exact same key management solution - the same binary software that runs inside the hardware HSM - available as a VMware instance.
In the Cloud - If you're running on Microsoft Windows Azure, vCloud, or in Amazon Web Services (AWS),the encryption key manager can run as a true cloud instance in a standard cloud or deploy in a virtual private cloud for added data protection for sensitive applications.
Because encryption and key management is so important, we offer all of the options listed above as NIST and FIPS 140-2 compliant solutions.
How is Alliance Key Manager Priced?
We have a wide set of options for our customers, and are dedicated to helping find affordable solutions. We have perpetual license or subscription options for classic HSMs, Cloud HSM, and virtualized environments. Our cloud offerings are true usage-based subscriptions, so if you're used to deploying in Amazon Web Services or Windows Azure, our encryption & key management solutions will fit that same strategy for pricing.
We really believe that the encryption should go everywhere you need it to go! Your key management should work across a wide set of application environments, and it must be affordable, so that we can all get where we need to be in terms of protecting sensitive data. Regardless of where your data is or what platform you are using, there's a key management solution that can work for you!
How can Encryption and Key Management improve my bottom line?
Whether you choose a designated hardware security module (HSM), something designed specifically for virtualized environments (VMware), or data storage in the cloud, encryption and key management solutions can help you:
Gain competitive advantage and build loyalty by protecting your customers data against access by unauthorized users
Reduce hardware costs by leveraging virtual environments in the cloud
Significantly improve your data security strategy while satisfying data compliance and privacy requirements
Overall, data encryption offers many benefits and provides solid protection against potential threats or theft. In addition to the many benefits, encryption is also efficient, easy to use, and affordable!
What sets Townsend Security apart from other key management vendors?
We want to protect data and make sure encryption is available everywhere you need it, so at Townsend Security we have a very different philosophy and approach:
We think that when you buy an encryption key manager, you should be able to easily deploy the solution, get all your encryption projects done properly, and have very affordable and predictable costs.
We understand that we live in a world where budget matters to our customers, so we do not charge client-side fees.
We know that IT resources are limited and have done a huge amount of work to make our solutions easy with out-of-the-box integrations, simplified deployments, and also provide along with our solution ready-made client-side applications, encryption libraries, source code samples, as well as SDKs for developers who need them to get their projects done very quickly.
Want to learn more about how to properly secure your data and protect your business against a data breach? Download our eBook "The Encryption Guide":