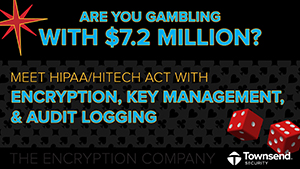 Many people we talk to are gambling with $7.2 million whether they realize it or not. This week we are at HIMSS12 in Las Vegas meeting members of the IT medical community – an appropriate venue for such high-stakes gambling. How are these people gambling with so much money? The average cost of a data breach is $214 per record, or $7.2 million for an organization. This figure is determined not only by direct costs of a data breach, such as notification and legal defense costs that impact the bottom line for companies, but also indirect costs like lost customer business due to abnormal churn.
Is there a way to make sure you aren't putting your organization in such risk? The HITECH Act, the compliance regulation that the medical community is concerned with, says that the only way to avoid a breach notification is through the use of industry standard encryption such as AES, and appropriate encryption key management technologies. Other compliance regulations (such as PCI DSS) go as far as REQUIRING protecting Personally Identifiable Information (PII) with encryption and key management – not just to receive a breach notification exemption.
Becoming compliant with these regulations doesn't have to be hard (though it can be). Townsend Security has made it easy (saving your organization time and money) with NIST-certified AES encryption for all the major enterprise platforms, as well as a FIPS 140-2 certified encryption key management hardware security module (HSM). For those organizations who are already encrypting but need key management, our encryption key manager can easily work with your existing database (SQL, Oracle, DB2, etc.) to help meet compliance requirements that call for separation of duties and dual control.

If you aren't familiar with NIST and FIPS 140-2 certifications, the National Institute of Standards and Technology (NIST) provides them to encryption and key management solutions after they undergo a rigorous testing process. The testing is carried out by independent testing labs who then report the results directly to NIST for validation. Only the most dedicated security vendors are able to pass the tests and achieve NIST and FIPS 140-2 certifications. Not only are these certifications essential for meeting compliance regulations, but they provide you an ease of mind that a third-party has verified the integrity of the product.
So are you gambling with $7.2 million? If you aren't protecting your PII with encryption and key management you might be. Take the first step for help and call our gambling hotline (800-357-1019) or send us an email. We'd be glad to help you step away from the table.
Learn more about proper encryption and key management best practices for HIPAA and HITECH Act in our white paper titled "Achieve Safe-Harbor Status from HITECH Act Breach Notification".
Are you an ISV? Visit our ISV Partner Program page for more information on becoming a partner or download our white paper titled Healthcare ISVs: Critical Issues in Meeting HITECH Data Protection Regulations.