Learn more about Transparent Data Encryption (TDE) and Extensible Key Management (EKM) on Microsoft SQL Server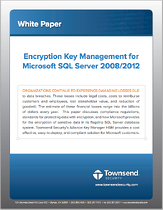 Database security is a vital and growing concern for SQL Server users, especially those who need to meet compliance requirements, secure customer data, and protect company intellectual property (IP). Luckily SQL Server Enterprise provides a variety of encryption options, including cell-level encryption and transparent data encryption (TDE).
Request this white paper for more on:
Increased security of your encrypted databases SQL Server encryption to meet compliance regulations such as PCI DSS, HIPAA/HITECH, GDPR, GLBA, FFIEC, etc.
Standards for protecting data with encryption
How Microsoft provides for encryption in SQL Server using Transparent Data Encryption (TDE)
Extensible Key Management (EKM) in SQL Server
Defense-in-depth strategies for solid data security
Complete the form to the right to download this white paper
---
More About Encryption & Key Management for SQL Server
Recognizing the importance of proper key management for data protection, Microsoft implemented Extensible Key Management (EKM) in SQL Server 2008 Enterprise and Standard 2019. EKM is both an architecture for encryption key management services, and an interface for third-party encryption key managers such as Alliance Key Manager from Townsend Security. While EKM provides for local, on-server management of encryption keys, Microsoft and third-party security professionals recommend the use of external key management solutions for Enterprise customers. Key Management solutions can be network-attached hardware security modules (HSMs), cloud-based HSMs, virtual machines, or true cloud instances. Alliance Key Manager is designed for use with Microsoft SQL Server EKM as a hardware security module, VMware virtual machine, or in the cloud (AWS and Microsoft Azure).