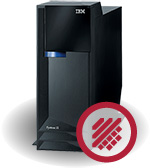 IBM announced recently the end of support date for V5R4. This has prompted many IBM i shops running this older OS to upgrade to a newer release - either V6R1 or V7R1. Traditionally, we have seen that most IBM i administrators upgrade just one release forward. In this particular case, we recommend going to V7R1. Not only is upgrading to V7R1 a fully supported path by IBM, there are security reasons. I recently sat down with Patrick Townsend, Founder & CEO, to discuss IBM i V7R1 and how Townsend Security can help organizations take advantage of FIELDPROC, a new feature that allows companies to encrypt their sensitive data without changing their applications.
You said recently that upgrading your IBM i to V6R1 is a bad idea. Can you explain why?
Security today is more important than it was even two or three years ago. We live in an evolving world around security and organizations of every size - from small companies to global companies - really have been under severe attack. The bad guys are getting much better at what they do and we are faced with highly sophisticated attacks. Even mid-sized companies are now under pressure to protect their data. So we live in a world that is far more sensitive and insecure, and we really have to put more attention on protecting sensitive data.
IBM gave us FIELDPROC in the latest release of the operating system (V7R1), which allows encryption with no application changes. FIELDPROC is really attractive for mid-sized and large customers. It makes the usually very difficult task of encrypting data in our systems much easier. I think that customers who are on older versions of the operating system (V5R4, for example) and who might in the past have just moved up one level, should really move up to V7R1. From a security perspective, it is time to jump a level from V5R3 or V5R4, past V6R1, which would be the next release, to V7R1 and get the benefits of FIELDPROC encryption.
What would an organization need to do to take advantage of FIELDPROC once they upgrade? They still need third-party encryption, right?
Yes, FIELDPROC is the ability to do encryption, but IBM relies on third-party vendors like us to actually provide the encryption libraries and appropriate encryption key management. When customers deploy our FIELDPROC encryption solution on V7R1, they are getting our NIST-certified encryption libraries, as well as seamless integration with Alliance Key Manager, our encryption key manager. Alliance Key Manager is FIPS140-2 certified, and when used with our encryption, lines up perfectly with best practices for encryption across all compliance regulations. Whether it is PCI/DSS with Credit Cards, HIPAA/HITECH in the Healthcare industry, FFIEC in the financial industry, DICAP if you are a civilian company working with the federal government, or if you are a federal agency where it is a mandate that you must have a FIPS140-2 solution.
Our FIELDPROC solution installs into an IBM i customer's environment, provides both our optimized and certified AES encryption libraries, and the key management you need to be compliant. IBM has done the hard work of making this capability available and we do the work of snapping in proper encryption and key management.
Download a free 30-day evaluation of our Alliance AES/400 encryption, built specifically for IBM i V7R1. Alliance AES/400 is the only NIST-certified FIELDPROC encryption available.