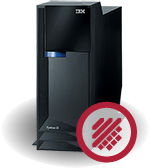 Last week we hosted a webinar titled "Automatic Encryption on the IBM i" and got some great questions! Now that IBM i 7.1 (V7R1) has been out for almost two years, we are starting to see more and more companies upgrade their IBM i's to this latest release of the OS. As a result, questions and concerns about FIELDPROC have been rolling in. This feature allows organizations to automatically encrypt their data with no application changes, making it easier than ever to meet compliance regulations with encryption (PCI DSS, HIPAA/HITECH, etc.).
Previously, encryption was a big project that often brought fear into the eyes of the IBM i administrator. Not only do we have a FIELDPROC encryption solution that avoids the need for development, but we feel it is the best available encryption for your organization. Performance is a key differentiator among encryption providers, and we challenge you to find a faster solution.
Additionally, we have been getting questions on how FIELDPROC affects Business Intelligence (BI) tools. Patrick Townsend, Founder and CTO, has taken a few minutes to address some of these questions from our recent webinar.
I have heard bad things about FIELDPROC performance. You seem to think it performs ok. Can you talk about that?
I think some of the less than stellar things you have heard about FIELDPROC performance comes from people who have implemented poor FIELDPROC encryption solutions. Different encryption libraries can have very different performance results. We have tested our optimized encryption libraries, and when compared to others, have found a 100 times difference in the speed of our libraries – even when you are doing something like 256-bit AES encryption. I think some people have had a bad experience with encryption and FIELDPROC, and I am sure you will have a different experience with our solution.
We make it really easy to evaluate AES/400, our FIELDPROC encryption solution. If you have had a bad experience around FIELDPROC, you should take a look at our solution. I think we will convince you that we have the best FIELDPROC encryption solution available.
How does FIELDPROC encryption affect OLAP reporting tools like ShowCase and Cognos?
The implementation of FIELDPROC is going to work as long as you have a standard DB2/400 database on the IBM i platform and you are running V7R1. If you have a Business Intelligence tool that runs on top of DB2/400, then FIELDPROC will work for you. FIELDPROC is a facility that is implemented at the database level and not on the application level. Personally, I think that if you have sensitive data in any Business Intelligence database, the user controls and masking controls that we have implemented in our FIELDPROC encryption solution should look very good to you because it gives you the ability to maintain the power of those Business Intelligence tools without accidentally exposing sensitive data and creating additional risk. FIELDPROC, by itself, will not do masking or user controls for you, but our implementation of FIELDPROC in our Alliance AES/400 product will do that for you and will help you protect that data.
View our webinar "Automatic Encryption on the IBM i" for more information about FIELDPROC and how your organization can easily meet compliance regulations that require encryption – with no application changes!