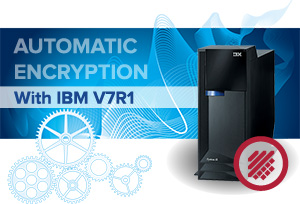 Your Encryption Project Just Get Easier!!


Automatic database encryption is possible with IBM i V7R1 and AES/400
No one wakes up in the morning and says they want to encrypt their data, other than those of us at The Encryption Company. We love to help companies get started with encryption and we love to talk about it. Those facts aside, much of the IT world views encryption as an onerous project and one they will avoid until an auditor says they have to meet a compliance requirement for PCI, HIPAA, etc.
The good news for IBM i shops is that the latest release of the O/S, V7R1, just made it easier for them to embrace an encryption project, instead of avoiding it. The most significant update in V7R1 is the introduction of the FIELDPROC exit point, which provides for an exit point at the column level of the database. We were so excited about what FIELDPROC does for IBM i customers that we updated our AES encryption solution, AES/400 to support FIELDPROC. This enhancement enables future and current AES/400 customers to implement automatic database encryption on the IBM i.
AES/400 version 6.0 allows administrators to apply instant field (or column level) encryption routines without impacting applications. Administrators can also enforce what users and what applications are allowed access to the protected data. Rather than rely on native IBM object level security, which is often not implemented correctly, simply specify which user and which program has access and exclude all others. That's it! Around the office we are calling it push button encryption because it really is that simple to implement encryption at the database level.
To paraphrase Staples (a long-standing Townsend Security customer), Automatic encryption – that was easy!
Request a demonstration today and let us show you how your company can be encrypting and decrypting data in a matter of hours rather than weeks.