Compliance regulations and security best practices require the encryption of sensitive financial data and the protection of encryption keys with proper key management.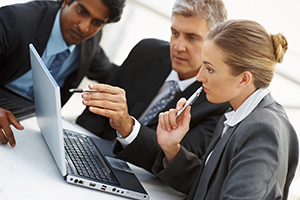 The financial industry includes banks, credit unions, and other financial organizations, including venture capital firms, private equity firms, investment banks, global investment firms, bank holding companies, mutual funds, exchanges, brokerages, and bank technology service providers, among others. In order to meet compliance regulations, information security programs must be in place to ensure customer information is kept confidential and secure, protected against potential threats or hazards to personal information (cyber-attack, identity theft) and protected against unauthorized access to or use of a customer's personal information. For business owners, database administrators, or developers who need to protect their customers' sensitive data with encryption; storing the encryption keys within the same database puts that information at risk for a breach.
If you fall within the financial sector, the following will apply:
The Gramm-Leach-Bliley Act (GLBA) - 15 USC 6801 - of 1999 first established a requirement to protect consumer financial information.
TITLE 15 , CHAPTER 94 , SUBCHAPTER I , Sec. 6801. US CODE COLLECTION
Sec. 6801. - Protection of nonpublic personal information
(a) Privacy obligation policy
It is the policy of the Congress that each financial institution has an affirmative and continuing obligation to respect the privacy of its customers and to protect the security and confidentiality of those customers' nonpublic personal information.
(b) Financial institutions safeguards
In furtherance of the policy in subsection (a) of this section, each agency or authority described in section 6805(a) of this title shall establish appropriate standards for the financial institutions subject to their jurisdiction relating to administrative, technical, and physical safeguards.
The Federal Financial Institutions Examination Council (FFIEC) supports the GLBA mission by providing extensive, evolving guidelines for compliance and evaluating financial institutions. Financial services regulations on information security, initiated by the GLBA, require financial institutions in the United States to create an information security program to:
Ensure the security and confidentiality of customer information
Protect against any anticipated threats or hazards to the security or integrity of such information
Protect against unauthorized access to or use of customer information that could result in substantial harm or inconvenience to any customer
Federal Reserve Board Regulations - 12 CFR - CHAPTER II - PART 208 - Appendix D-2
-- Interagency Guidelines Establishing Standards For Safeguarding Customer Information--
… III. Development and Implementation of Information Security Program
… C. Manage and Control Risk
Each bank shall:
… c. Encryption of electronic customer information, including while in transit or in storage on networks or systems to which unauthorized individuals may have access.

Enforcement of these financial industry compliance guidelines fall to five agencies: the Federal Reserve System (FRB), the Federal Deposit Insurance Corporation (FDIC), the National Credit Union Administration (NCUA), the Office of the Comptroller of the Currency (OCC), and the Office of Thrift Supervision (OTS). In collaboration, these agencies have developed a series of handbooks that provide guidance, address significant technology changes and incorporate a risk-based approach for IT practices in the financial industry. The "Information Security Booklet" is one of several that comprise the FFIEC Information Technology Examination Handbooks, and references encryption in detail.
Summary: Financial institutions should employ encryption to mitigate the risk of disclosure or alteration of sensitive information in storage and transit. Encryption implementations should include:
Encryption strength sufficient to protect the information from disclosure until such time as disclosure poses no material risk
Effective key management practices
Robust reliability
Appropriate protection of the encrypted communications endpoints
To meet the growing need for NIST validated and FIPS 140-2 compliant encryption and key management, the data security experts at Townsend Security provide a certified key management system (Alliance Key Manager) which provides secure key storage and retrieval options for a variety of Enterprise and open source platforms. Now when nonpublic personal and financial information is collected or stored in a database it can easily be encrypted and the encryption keys properly managed.
To learn more, download the ebook: Encryption Key Management Simplified
Additional Resources:
Federal Financial Institutions Examination Council (FFIEC)
FFIEC Information Technology Examination Handbooks
Federal Deposit Insurance Corporation (FDIC)
National Credit Union Administration (NCUA)
Office of the Comptroller of the Currency (OCC)