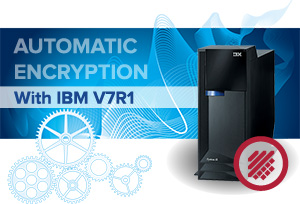 The newest version of the IBM i (AS400) operating system, V7R1, brings sophisticated new security tools from IBM's larger systems to mid-range markets. These new features allow third-party companies such as Townsend Security to offer NIST-certified automatic AES encryption, so that you can now encrypt your sensitive data without application changes!

With the update from V5R4 or V6R1 to V7R1, the AS400 can now protect data more efficiently by using FIELDPROC, an "exit point" technology that works in the database instead of in application programs. Previously, IBM i (AS400) encryption was an application-level process where a user had to first identify the field such as credit card numbers, social security numbers, or other private information and then decide on an approach that usually involved modifying applications. This required programmers to make changes and undergo a sophisticated test cycle.

The new FIELDPROC exit point allows a user to identify all fields they wish to encrypt with Townsend Security's automatic AES encryption without making application changes.

It is crucial to keep in mind that administrators can use strong encryption in a weak manner by neglecting the use of proper encryption key management. In using a third-party encryption provider such as Townsend Security, a company with more than 20 years of IBM i (AS400) experience has three distinct advantages:
AES encryption is automatic, meaning that no changes in applications need to be made. This saves your company time and money by focusing on your business instead of a complicated encryption project.
NIST-certified encryption will pass all state, federal, and industry compliance regulations. Townsend Security guarantees our NIST certified Alliance AES/400 solution will meet or exceed encryption standards in PCI, SOX, HIPAA/HITECH and other regulations.
Third-party encryption can be faster. Alliance AES/400 from Townsend Security can encrypt one million credit card numbers in one second of CPU time--100 times faster than competing encryption libraries on the same IBM i platform.
Because encryption has a reputation for creating performance problems, the newly specialized FIELDPROC tool optimizes encryption and sets up secure caches. Townsend Security's Automatic AES Encryption integrates seamlessly with these features to create the most secure data environment available on the IBM i (AS400) today.
Download our podcast on "The Benefits of FIELDPROC Encryption" to learn more about FIELDPROC capabilities and the benefits of automatic encryption. Additionally, we have a podcast titled "FIELDPROC Performance - Speed Matters" for those who are wondering how it will impact their systems.