You may be using VMware's vSAN technology and not even know it. vSAN is the core technology in most of the Hyper-Converged Infrastructure (HCI) solutions on the market today. If you are running VMware for your on-premise or cloud infrastructure, you have vSAN at your fingertips. So, how can you leverage vSAN to meet compliance regulations and save money? Let's take a deeper dive.
First, why is it important to encrypt our data?
Almost all compliance regulations require that you protect the sensitive information of your customers, employees, and service providers. This includes the California Consumer Privacy Act (CCPA), the Health Insurance Portability and Accountability Act (HIPAA), the EU General Data Protection Regulation (GDPR), the New York Department of Financial Services act (23 NYCRR 500), the Gramm Leach Bliley Act (GLBA), and many, many others. As we now know a major data breach that loses unprotected sensitive data will have severe impacts on any organization whether public or private. Encryption is now a core requirement of any security strategy, so how do we get there?
Can't I use the native encryption facility in my database?
Almost all commercial and open source databases provide a path to using encryption that is built right into the database. Unfortunately, getting access to the encryption feature usually means upgrading to the Enterprise version of the database—and this can be an expensive proposition. This is true of Microsoft SQL Server, Oracle Database, MySQL, and many others. Of course, an upgrade to the Enterprise version usually gets you a lot more capability than encryption. An upgrade brings a lot of additional value, but the reality is that a database upgrade is beyond the budget of many small to midsize companies. So what can you do?
How can vSAN encryption help?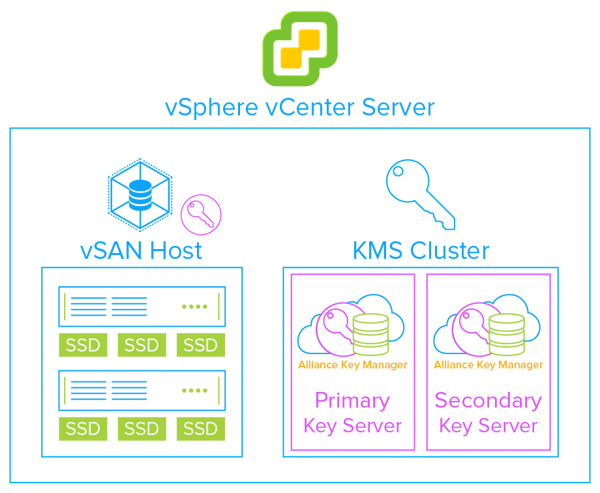 Beginning with version 6.6, VMware vSAN provides for built-in encryption support and a link to vSphere for proper encryption key management. By default, vSAN virtual disks are not encrypted. However, it is really easy to configure a vSphere KMS Cluster, deploy a key management server (KMS), and turn on vSAN encryption. You don't need to reload your vSAN virtual disks and it is fast to deploy. With very little time and effort you can achieve encryption at rest for your database and other files.
To enable VMware vSAN encryption you only need a key management system that supports the OASIS standard Key Management Interoperability Protocol (KMIP). Our Alliance Key Manager fits the bill perfectly, and there are other solutions. You just deploy the key manager, grab the key manager certificate and private key, install them on your vCenter cluster, configure a KMS Cluster in vSphere, and enable encryption. Voila, you are done in a short period of time.
Do you know what else is cool? You can use the same KMS Cluster configuration to encrypt your VMs and to enable VMware vTPM in your virtual machines. That's a lot of capability with very little time, effort and expense.
Is it risky to run my database in a vSAN volume?
The VMware vSAN facility is mature and now trusted by large and small Enterprises. As mentioned above, vSAN is a core component of almost all of the major Hyper-Converged Infrastructure (HCI) solutions. You may be using vSAN and not even be aware of it. There is also some good news—VMware has published a number of solution briefs and architecture guides to help you deploy Oracle Database, Microsoft SQL Server, and other databases directly on vSAN. Of course, you need to be aware of high availability requirements for both vSAN and for your KMS, but the existing vSAN documentation is quite good on this front. And deploying a high availability instance of our Alliance Key Manager solution is easy, too. More information here.
Today, you can confidently deploy your relational and NoSQL databases onto encrypted vSAN virtual disks safely and easily.
Saving money with vSAN encryption
We all live with constraints on our IT budget and our management team wants to see a good return on our IT investments. If you find that you don't have the budget needed to upgrade your database for native encryption, deploying vSAN encryption is a great alternative. vSAN is a VMware facility that you already have and adding a key management solution is now very affordable. You can deploy our affordable Alliance Key Manager solution and avoid future upgrade and build-out costs. vSAN encryption and good key management is within the reach of every IT budget.
Ouch, I have vSAN but I don't have a place to run a KMS
VMware vSAN is popular in many cloud and edge computing environments, but you might not be deploying VMs in that environment. Our key manager runs as a VMware virtual machine, so this can be a bit problematic in these environments. But there is an elegant solution to this—run the key manager in the cloud. For example, you can launch our Alliance Key Manager as an EC2 instance in AWS, or as a virtual machine in Azure, and use it to protect your vSAN volumes in edge environments. Alliance Key Manager works the same way in the cloud as it does as a VMware VM. And you can use one key management instance to serve multiple vSAN edge deployments. Problem solved!
Some precautions
There are some common sense precautions related to vSAN encryption. One is to be sure that you don't deploy your KMS virtual machine onto a vSAN volume that it is protecting. If you have issues with the vSAN volume you don't want it to impact the KMS, and vice versa. Also, as in all production environments where you deploy encryption and key management, be sure to deploy a failover key management server. It is easy to do with Alliance Key Manager and it will help you recover quickly and easily.
Alliance Key Manager for vSAN
Alliance Key Manager is certified by VMware for use with vSAN and vSphere encryption. All versions of vSAN and vSphere that support encryption are certified. In addition to VMware certification, Alliance Key Manager is validated to meet the PCI Data Security Standard (PCI-DSS), is KMIP compliant, and is FIPS 140-2 compliant. You can run Alliance Key Manager as a VMware virtual machine, as a cloud instance (Azure and AWS), in a Docker container, or as a hardware security module (HSM). No charge evaluations are available directly from the Townsend Security website, and we welcome partner inquiries. More information here.