Townsend Security, a MongoDB Technology Partner, achieves MongoDB Enterprise Certification for Alliance Key Manager.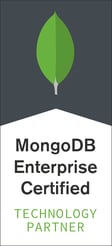 Today Townsend Security, a leading authority in data privacy solutions, and MongoDB, the database for modern applications, today announced Alliance Key Manager has certified against MongoDB Enterprise.
MongoDB Enterprise simplifies data protection by providing native encryption of data at rest. When coupled with Townsend Security's flagship encryption key management solution, Alliance Key Manager, meeting compliance (PCI DSS, HIPAA, etc.) and security standards is even easier and more affordable for large as well as small organizations.
By centralizing the secure storage of encryption keys and governance with a FIPS 140-2 compliant solution, MongoDB users can easily generate a master encryption key and begin encrypting database keys using native command line operations with Alliance Key Manager.
"Alliance Key Manager for MongoDB gives organizations control of key management in a convenient and fast deployment option. With this joint solution it is simple for customers to encrypt their data in MongoDB Enterprise," said Davi Ottenheimer, Product Security, MongoDB.
Encryption and key management have become a critical aspect of security and compliance management. Protecting encryption keys mitigates the risk of data breaches and cyber-attacks, as well as protects an organization's brand, reputation and credibility. Alliance Key Manager addresses these needs by helping enterprises reduce risk, support business continuity, and demonstrate compliance with regulations like PCI DSS, HIPAA, GDPR, etc.
"In the wake of some of the largest data breaches ever, data security is a top concern for businesses large and small. MongoDB has made it easier than ever for enterprises to secure private data with encryption and key management," said Patrick Townsend, Founder & CEO, Townsend Security. "With Alliance Key Manager for MongoDB, MongoDB Enterprise customers have access to cost-effective, simplified encryption key management."
Alliance Key Manager supports seamless migration and hybrid implementations, using the same FIPS 140-2 compliant technology. MongoDB users can deploy Alliance Key Manager as a hardware security module (HSM), VMware instance, or cloud-native Amazon Web Services (AWS) EC2 instance or Microsoft Azure virtual machine. Additionally, Alliance Key Manager supports hybrid and cross-cloud deployments. The solution is available for a free 30-day evaluation.