Guest blog by Sophia Khan of CyberGuard Compliance
---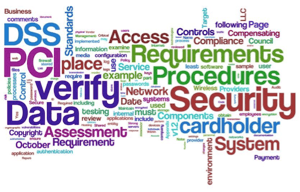 With all of the security breaches you hear of in the news and the occurrence of these incidents becoming more widespread, how can you be sure your customer's credit card information remains secure? This is the purpose of PCI DSS (Payment Card Industry Data Security Standards) as it pertains to all merchants who accept credit cards, irrespective of their annual revenue and credit card transaction volume. Even with this mandatory requirement, a vast majority of organizations are still struggling to maintain PCI compliance, and the process is costing companies a great deal in consulting fees to address the root cause of PCI audit failures. By being proactive in assessing the areas of weakness when undergoing a PCI Audit, especially for the first time, companies can avoid the frustrations of a failed audit and be well on their way to continued PCI compliance.
FIRST TIME PCI AUDIT AREAS OF WEAKNESS:
1) Encryption Key Management
Several sections of PCI DSS address cryptography and key management with respect to the protection of cardholder data. When a company is unfamiliar with the ever-evolving encryption standards and requirements, this can provide additional challenges in maintaining PCI compliance. PCI DSS does not specify which cryptographic standards should be utilized, however most companies do implement Advanced Encryption Standard (AES) and Triple Data Encryption Standard (TDES), which are widely accepted for the encryption of sensitive data. These are the standards approved by the National Institute of Standards and Technology (NIST).
The list of requirements includes the protection of cryptographic keys utilized for the use of encryption of cardholder data by limiting access to the fewest number of custodians necessary, and the secure storage of keys in as few locations as possible. Additionally, cryptographic keys generated need to be strong with secure key distribution and storage, with periodic key changes being mandatory. For example, if a vendor hosts your encryption keys, then they along with hackers can most likely access it. Therefore, it is essential for maximum security to exclusively host your own encryption keys.
The solution to the complex issue of encryption key management, is the utilization of encryption and tokenization tools which will protect sensitive information with NIST-validated AES database encryption. There are five fundamentals of encryption key management:
Key storage
Key policy management
Key authentication
Key authorization
Key transmission
By implementing a strong key management application, secure data can be protected and there will be prevention of third-parties from accessing unencrypted content.
2) Two-Factor Authentication
Passwords are typically the first and final line of defense in protecting user accounts. They are also the easiest for hackers to crack and on their own can compromise the security of sensitive information. Two-factor authentication, also known as multi-factor authentication, significantly reduces the risk of system intrusion, as you are required to utilize both a password as well as an additional measure such as a security code sent to a mobile device. PCI security standards require at least two of three authentication methods described in the requirement to be utilized.
Something you know: This utilizes knowledge of something such as a password, PIN, or phrase.
Something you have: This may involve an RSA token device, smartcard, key fob, or cellular device with mobile authentication.
Something you are: This involves biometric measures such as a fingerprint or retina scan, facial or voice recognition, or other unique physical identification.
By utilizing two-factor authentication, companies can reduce the security threat of possible intrusion with added authentication mechanism beyond a simple password.
3) System Logging
Section 10 of the PCI DSS indicates organizations must track and monitor all access to network resources and cardholder data. This is one of the most important PCI compliance requirements as it related to network security and access. The requirement has many subsections outlining what needs to be fulfilled in order to maintain compliance in this section.
The following must be logged and maintained:
There must be a system for logging access to all system components and every individual user.
Audit trails for each of the following must be established:

Individual users with cardholder data;
All actions performed by users with administrative privileges;
All invalid access attempts;
Tracking of audit log clearings;
Secure assessment trail logs and access restriction to those with a job-related need.
System logging capabilities and the function to track user activities are imperative in detecting, preventing, and diminishing the potential impact of a data security breach. In the absence of system activity logs, it would be near impossible to detect the cause of a compromise and correct it. By maintaining knowledge of who had access to the system what they used the data for, a company can be proactive in the event cardholder data goes missing or there is suspicion of any foul play.
In recent times, many organizations have fallen into the 'check the box' category, where PCI compliance is simply a mandatory prerequisite they try and get through for the sake of fulfilling a minimum requirement. By practicing good cybersecurity hygiene on a consistent basis, and being cognizant of the potential areas of weakness, your Company can ensure cyber-risk management is a continued priority as you minimize operational risks. This will also allow your firm to stay ahead of the curve as technology evolves when the standard updates with time.
Visit CyberGuard Compliance's website to learn more about their services relating to PCI audits.
About CyberGuard Compliance
CyberGuard Compliance is based in the United States, but serves clients around the globe. The firm's leadership team has over 150 years of combined business management, operations and related information technology (IT) experience. CyberGuard Compliance has performed over 1,000 SOC audits, and unlike most traditional CPA firms which focus on financial statement auditing and tax compliance, CyberGuard Compliance focuses on cybersecurity and compliance related engagements. These engagements include, but are not limited to, SOC 1 Audits, SOC 2 Audits, SOC 3 Audits, SOC Readiness Assessments, ISO 27001 Assessments, PCI Compliance, HIPAA Compliance, HITRUST Compliance, Vulnerability Assessments, and Penetration Testing. For more information, please visit https://www.cgcompliance.com.