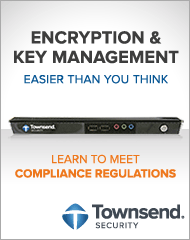 So you've decided to purchase an encryption key management HSM to help you pass a QSA audit and meet PCI DSS compliance. Unfortunately just showing the auditor your paid receipt and key manager is not enough to satisfy requirements. You have to actually be using them in a production environment. Fortunately this is a fairly simple process to get started with Alliance Key Manager, our encryption key management HSM.

Once the appliances are assigned IP addresses and reachable on your network, there are three fundamental tasks that you should complete prior to going into production.

First you'll want to setup and configure mirroring to your H/A failover server. This is as easy as toggling on outgoing mirroring in the AKM.conf file of your primary server. Next you'll want to have one of your Security Admins log into the Java based AKM Admin console for the production server and point it towards the failover server that will be receiving all the mirrored commands. The final step to complete mirroring requires logging into the failover server and defining the incoming mirror details in the AKM.conf file for that appliance. You'll also want to be aware of any firewalls in your network that could inhibit traffic and add exceptions accordingly.

The second part to deploying an encryption key management appliance involves defining your log collection of system logs for audit purposes and meeting section 10 of PCI DSS. Alliance Key Manager supports transferring system logs via syslog-ng to a log collection server that is running a SIEM solution. This is configured in the standard syslog manner by defining a log source, destination, and path.

The final and surprisingly perhaps most overlooked step to appliance setup is the creation of system backups. Within Alliance Key Manager you will create two different types of backups from the outset. The first will be a backup of your key encryption keys and configuration settings. This backup needs to really only be run once during the setup of the device as there won't normally be changes to these settings going forward. The second backup will be of the primary key management database, which will contain all your data encryption keys used by key retrieval clients.

During the backup process you'll be asked where you want these backups stored and define a backup destination. Your choices include a local directory on the key server itself or sending it to an FTP server using SSL or SSH. We recommend sending your backups to a secure FTP server off the appliance in the event of a hardware failure and you can't reach the backup directory you'll still have access to these crucial images elsewhere for restoring purposes.

To make life easier on your network team we provide a scheduling facility that allows you to automatically create and transmit these backups at any specified time of your choosing.

Tackling these three tasks while setting up your Alliance Key Manager HSM will help you well on your way to passing that QSA audit. The deployment team at Townsend Security can help you breeze through these steps as well as provide you documentation that covers these items in further detail.
For more information on the importance of encryption key management, download our white paper "Key Management in the Multi-Platform Envrionment" and learn how to overcome the challenges of deploying encryption key management in business applications.