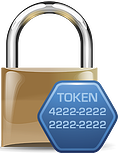 Today the Payment Card Industry Security Standards Council issued some long awaited guidance on tokenization as a method of protecting credit card information ("PAN", or Primary Account Number in PCI language). This guidance has taken a number of months to produce, and will be very helpful to merchants who want to deploy tokenization solutions to reduce the scope of PCI compliance efforts, for those who have already deployed solutions and need to assess if they meet minimum requirements, and for QSA auditors who have been looking for some guidance in this area.
The link to the guidance is here.

Here are some first thoughts on reading the guidance.
As I've been saying here before, a tokenization solution is always in scope for PCI DSS compliance. This means the merchant is responsible for insuring that a tokenization solution itself meets all of the PCI DSS requirements. Whether you create your own tokenization application, or you acquire one from a vendor, it is in scope for PCI DSS compliance and you are responsible for it. The guidance makes this point very clearly. In fact, the guidance makes the observation that tokenization solutions are likely to be the targets of attack because they become a centralized repository of credit card information. Merchants should be very careful that their tokenization solutions meet all PCI DSS requirements and are sufficiently hardened. In my opinion, there are very few merchants who would be up to the task of creating such a solution in-house.

Following on the previous point, a tokenization solution must have encryption and key management capabilities that meet PCI DSS requirements. This means special care in the deployment and implementation of key management. You should be very sure that your key management solution implements proper Dual Control, Separation of Duties, Split Knowledge, and separation of keys from protected data. When acquiring a vendor solution for tokenization look for FIPS-140-2 certification of the key management system – that should be a minimum requirement to indicate the proper implementation of encryption and controls.
Download a recent webcast I recorded that discusses the importance of tokenization and PCI compliance.
Today's announcement by the PCI Security Standards Council on tokenization is certain to raise awareness about the importance of selecting the right tokenization solution for your organization and ensuring it meets the PCI DSS requirements. I will be post another article Tuesday that will discuss more thoughts on this new guidance.
I hope you find this helpful.

Patrick