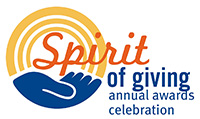 When we walked in the room at St. Martins University, there was a look of amazement in my eyes to see the amount of people involved in our community. Two hundred people filled the room Tuesday for a lunch put on by United Way for their Spirit of Giving celebration. Today was not just a lunch date, it was for honoring businesses and community members for their stewardship. We had the chance to enjoy listening to one of the local high school choir groups and Bill Grace, the director of Common Good Works, speak to us about "Leadership for the Common Good." We had a few heart felt moments during our special lunch, for example when handing out the Gladys Burns Human Service Award. The award went to a man who has recently passed away, but has left a hand print in the world with his generosity toward Thurston County. His wife accepted the award on his behalf and explained how his life was spent helping others.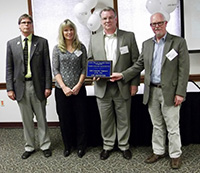 Townsend Security received the award of corporate sponsor of the year, by increasing our donations by 132%. Here at Townsend, our company matches our donations dollar for dollar to any 501(c)(3) non-profit organization, up to $500 per employee each calendar year.

Patrick Townsend, the Founder and CTO of Townsend Security, is also a board member for the United Way. He has started a path for this company and its employees to follow in his footsteps by giving back to our community. Townsend Security is not only an encryption software company providing certified products to our customers and meeting PCI compliance, but also giving back to our community. We understand the need of giving and United Way is one of the many ways we do that.

We invite you to take a look at all of our community sponsorships we are apart of. You can also follow us on Facebook, Twitter, and LinkedIn to see what we are up to next.