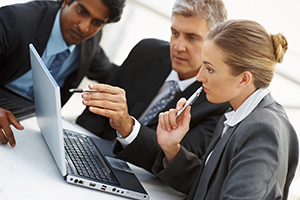 I invited a partner to come down from Seattle to learn about our key management appliance, Alliance Key Manager. It started innocently enough, we planned to meet on February 21st and discuss our encryption, key management and system logging solutions in the context of PCI compliance. A week later, I received a call from an Australian partner asking to come by our office for training on Feb 21st. They were going to be in Seattle after the RSA Conference. I told them they were in luck, we were coincidentally conducting a training session on that very day, come to our office, we would love to host them.
We had two partners confirmed, why not ask a few more? Turns out some others were available as well. Voila! The first annual Townsend Security Partner Training was underway!!
The day started with a tour of our new offices- a must-see when in the Seattle area!! Training began with an overview of FTP Manager and PGP encryption. Our latest release of FTP Manager, our managed file transfer offering, brings support for encrypted PDF and encrypted ZIP files as well as PGP administrative enhancements.
Break! After a fabulous lunch at a local Italian restaurant, we delved into the world of encryption key management, database encryption, and system logging.
Patrick Townsend, Founder & CTO, addressed the importance of encryption & key management as a means of protecting data and meeting PCI compliance. The renewed focus on "Dual Control" and "Separation of Duties" by QSA auditors is forcing many IBM i customers to move from homegrown key management to a better method of securing encryption keys. He explained how compliance auditors requirements have evolved from "you must encrypt" to "don't store your keys with your encrypted data" to "protect keys with a key manager" and are now converging on the message "that key manager should be FIPS-140 certified."
Finally, partners were introduced to what an end-user sees when we work with them. We took them through a pre-sales walkthrough and through a post-sales support ticket. Eppy Thatcher, one of our senior support engineers, walked everyone through a demonstration of Alliance Key Manager and LogAgent. A few of our partners were surprised to learn that some compliance regulations require collecting system logs. Eppy showed them how Alliance LogAgent can communicate with any SIEM solution and help satisfy system log requirements.
By the end of the day, everyone walked away with a solid understanding of how our solutions work and how they can help meet compliance regulations. Our partners saw the benefits of being able to offer their customers NIST and FIPS-140 certified encryption and key management solutions. They realize that these certifications will guarantee encryption and key management is done correctly.
If you are interested in becoming a partner or attending the next partner training session, please let us know.
Robbn Miller, Channel Manager