Simplifying Security for IBM i and IBM Security QRadar
Collect Real-time Security Events from IBM i (AS/400, iSeries)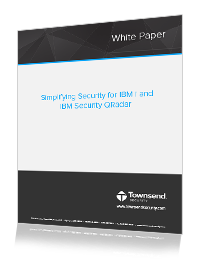 Actively monitoring system logs is one of the most effective security tools any organization can deploy. But there are many challenges facing an organization deploying one of the many SIEM solutions for active monitoring. SIEM solutions can be complex to install, configure, deploy and manage. IBM Security QRadar has dramatically reduced the effort required to deploy an effective SIEM solution.
This white paper will:
Discuss how IBM i customers can make integration with QRadar simple, fast and inexpensive

Show how IBM Security QRadar users can rapidly experience success and better security

Discuss how continuous, active monitoring is a key security control

Explore the security benefits of the combining IBM Security QRadar and Townsend Security's Alliance LogAgent for IBM QRadar
Download this White Paper now to learn more about simplifying security for IBM i and IBM Security QRadar.