White Paper Download: AES Encryption Strategies - A White Paper for the IT Executive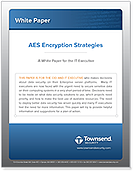 This paper is for the CIO and IT Executive who makes decisions about data security on their Enterprise server platforms. Many IT executives are now faced with the urgent need to secure sensitive data on their computing systems in a very short period of time. Decisions need to be made on what data security solutions to use, which projects need priority, and how to make the best use of available resources. The need to deploy better data security has arisen quickly and many IT executives feel the need for more information.
This White Paper paper will:
Provide helpful information and suggestions for a plan of action
Identify key issues in data security
How to choose the right data security partner
Develop a strategy that insures some early successes
Download this White Paper now to learn more about strategies for beginning an encryption project.