Download White Paper: The Business Case for Tokenization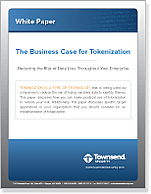 Tokenizing sensitive data delivers an outstanding return on investment (ROI) to businesses by providing a risk-reduction of losing sensitive data. By tokenizing data, organizations can reduce the chance of losing sensitive information – credit card numbers, social security numbers, banking information, and other types of PII. In some cases tokenization can take an entire server or database application out of scope for compliance regulations.
Learn about tokenization can help your business with:
Development & QA Environments
Customer Service
Historical Data
Outside Services
Business Intelligence (BI) and Query
Download this white paper to learn more about reducing the risk of data loss throughout your organization by replacing your sensitive information with tokenization.