Webinar: Understanding System Logging on the IBM i (AS/400, iSeries, System i)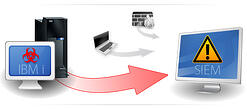 Studies show that over 73% of data breaches could have been detected before any data was lost if proper system logging had been in place and monitored.

Logging on the IBM i platform is different than other platforms – logs are stored in many different places in a proprietary IBM format. This presents a challenge for administrators who use a SIEM to monitor their system logs.
This session will examine the security principles, compliance requirements, and technical challenges for log collection and forwarding on the IBM i platform.
Learning Objectives:
Security principles of log collection and monitoring

Compliance requirements of PCI DSS, HIPAA/HITECH, SOX, GLBA/FFIEC, etc.

Communicating with log collection and SIEM servers

File Integrity Monitoring and log collection

IBM i log collection challenges