Webcast: Top 3 IBM i Security Tips
Presented by Patrick Townsend and Patrick Botz
Security Tips that You Need to Know from Patrick Townsend and Patrick Botz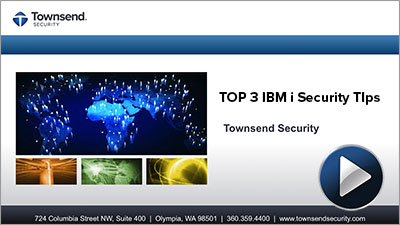 Did you know that encryption no longer requires application changes? Or that you can enable Single Sign On (SSO) using software you already own to implement stronger and secure passwords? How about that compliance regulations require you to collect and monitor your system logs?

Join Patrick Townsend with Patrick Botz, former Lead Security Architect and founder of the IBM Lab Services security consulting practice, as they present the top three security tips for 2013. During this webinar, they will discuss:
Using FIELDPROC for automatic encryption
Key Management best practices – and what to look out for
A practical way to implement Single Sign On (SSO)
How to easily collect IBM i logs and transmit them to ANY SIEM
By submitting your contact information for this webinar you agree to receive periodic emails from Townsend Security and Botz and Associates containing information about their services and special promotions.