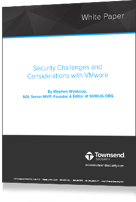 Deploying encryption and key management in VMware presents unique challenges. When systems are no longer dedicated and share a common physical architecture, the issues of access and encryption controls is critical.

Request this white paper to learn about:
Security challenges and considerations with VMware
Implementation issues and concerns
Importance of encryption and key management for VMware
vSphere VM and vSAN encryption & key management
Compliance considerations
Get started with a solid data protection strategy - Fill out the form to the right!

VMware customers need strong encryption and key management solutions that run natively in their VMware environment and which provably meet compliance regulations such as PCI-DSS. Alliance Key Manager for VMware provides secure, virtualized key management, transparent data encryption (TDE) for SQL Server, and a variety of encryption and software development kits (SDKs) for every Enterprise VMware platform.
Please share this great content with friends and colleagues: