Download White Paper:
Healthcare ISVs & HITECH Act - 4 Critical Issues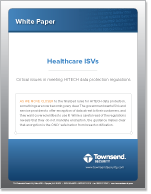 As we move closer to the finalized rules for HITECH data protection, some things are now becoming very clear. The government wants ISVs and service providers to offer encryption of data at rest to their customers, and they want covered entities to use it! While a careful read of the regulations reveals that they do not mandate encryption, the guidance makes clear that
encryption is the ONLY safe harbor from breach notification.
Your customers will interpret this as a mandate, and will start demanding encryption in your products and service solutions. We are already starting to see this happen.
Topics Discussed:
Encryption Key Management
Importance of NIST & FIPS Certification
Getting Encryption & Key Management Right
Finding the Right Partner
Download this white paper to learn more about the four critical issues you will face as you start down the path of meeting HITECH Act requirments with strong encryption and key management.