reduce hardware costs, lower operational costs, minimize the IT footprint, - See more at: http://townsendsecurity.com/products/virtualized-encryption-key-management#sthash.GGZ6jurE.dpuf
reduce hardware costs, lower operational costs, minimize the IT footprint, - See more at: http://townsendsecurity.com/products/virtualized-encryption-key-management#sthash.GGZ6jurE.dpuf
reduce hardware costs, lower operational costs, minimize the IT footprint, - See more at: http://townsendsecurity.com/products/virtualized-encryption-key-management#sthash.GGZ6jurE.dpuf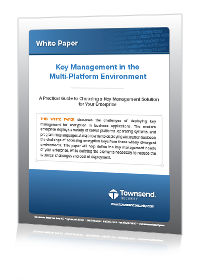 The modern enterprise deploys a variety of server platforms, operating systems, and programming languages. A major barrier to deploying encryption has been the challenge of accessing encryption keys from these widely divergent environments. What do you need to know about encryption key management in the multi-platform environment?
Download this white paper to learn about:
Key management needs of the enterprise

Key retrieval from Windows applications, Microsoft SQL Server, Oracle Database, MySQL, Linux applications, IBM i DB2, Java, the cloud and more

How to reduce the costs and complexity of deploying key management
This white paper will help you understand what requirements you should discuss with your vendor when evaluating a key management solutions.