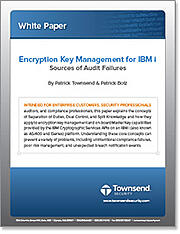 Meeting compliance regulations for managing encryption keys is a challenge for IBM i administrators. Understanding the core concepts presented in this white paper can prevent a variety of problems, including unintentional compliance failures, poor risk management, and unexpected breach notification events.
Download this white paper to learn:
Encryption key management as a source of audit failure
Best practices for encryption and key management
The concepts of dual control, separation of duties, and split knowledge
How these concepts apply to encryption key management and on-board Master Key capabilities provided by the IBM Cryptographic Services APIs on an IBM i
About the Authors

Patrick Townsend is the founder and CEO of Townsend security, a company that specializes in data encryption, key management, and IBM i security technology. He has been in the data security industry for more than 25 years and brings both a deep well of knowledge and a unique perspective to the subject. Patrick is an award winning speaker and regularly presents on data security topics. Additionally, he contributes to standards development at organizations like OASIS and PCI SSC.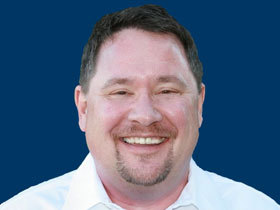 Patrick Botz is the President and CTO of Botz & Associates. Patrick's expertise includes security strategy, security policy enforcement, password management and single sign-on (SSO), industry and government compliance, and biometrics.

Previously as Lead Security Architect at IBM and founder of the IBM Lab Services security consulting team, Patrick achieved intimate knowledge of system security capabilities and pitfalls on a broad spectrum of platforms, with special emphasis on iBm i (formerly AS/400), AIX, Linux and UNIX operating systems.
Request the white paper "Encryption Key Management for IBM i - Sources of Audit Failures" by completeing the form at the right.
Please share this great content with friends and colleagues: