White Paper: AES Encryption and Related Concepts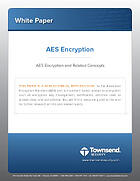 This paper is a non-technical introduction to the Advanced Encryption Standard (AES) and to important topics related to encryption. You will find a resource guide at the end for further research on this and related topics.
Additional topics included:
Encryption key management
Importance of NIST validation
Common uses to protect data
Regulatory compliance
Fill out the short form to the right to confirm your request to download the whitepaper!