Townsend Security recently traveled down south to Austin, TX for the Drupal developer annual conference, DrupalCon 2014! In partnership with Cellar Door Media, Townsend Security recently released Key Connection for Drupal, the first encryption key management solution for Drupal. Key Connection for Drupal enables developers to use world NIST-validated AES encryption FIPS 140-2 compliant key management for data stored in Drupal.
At DrupalCon 2014 Townsend Security introduced our new Drupal Developer Program. The Drupal Developer Program puts encryption and key management in the hands of developers, free of charge, to implement and test.
Key Connection for Drupal
Key Connection for Drupal allows Drupal users to encrypt sensitive data and do it right. Historically, the Drupal encrypt module only allowed users to store encryption keys natively, or in other less secure ways. Key Connection for Drupal enables encryption keys to be stored off-site in a FIPS 140-2 compliant encryption key manager. Townsend Security's Alliance Key Manager is available as an AWS, Microsoft Azure, or VMware instance; as a hosted appliance in the cloud; or as a physical HSM. Alliance Key Manager can also perform onboard encryption, meaning that developers can send sensitive data to the key manager to be encrypted with NIST validated AES encryption so that they can provably meet compliance regulations and their encryption keys never leave the key manager.
Developer Program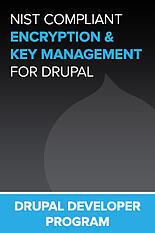 At Townsend Security, we know that encryption and encryption key management are critical to strong digital security and meeting several compliance regulations such as FISMA, PCI DSS, HIPAA, etc. With Key Connection for Drupal we've made encrypting data and managing encryption keys easier than ever. We also know that for strong security to become ubiquitous, it must be easy to obtain and implement. That's why we've begun a developer program that puts technology in the hands of the people who use it most. Drupal developers can now join our developer program, for no fee, and receive up to two free Alliance Key Manager licenses to test internally for non-production use. We hope that through the developer program we can help improve data security in Drupal and the community.
Community
Townsend Security firmly believes in giving back to the Drupal community. Through the Developer Program and our participation in the Drupal Association we hope to continue to bring strong security to the Drupal community as we move forward. To sign up for the Drupal Developer Program, contact us here. To learn more about Key Connection for Drupal, visit the Drupal.org project site here.