What Should You Look for in a Strong Technology Partner?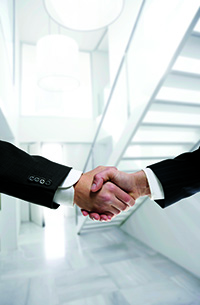 What does a strong technology partnership look like? One of the biggest challenges growing businesses face is bringing on new partners and building relationships that are built on solid people and products. Business executives are fearful, and rightly so, that any new technology partner may pose a huge risk to their own company. Any partnership is a basic agreement based on the trust that a partner's product is good, will not fail, and will be market available in the long run. Most executives have experienced that trust being broken.
In a recent video with Townsend Security CEO Patrick Townsend and Mark Foege, Business Development Consultant and Principal at the Colvos Group, both Mr. Townsend and Mr. Foege outlined the importance of building strong technology partnerships for success, and what to look for in a partner.
According to Patrick Townsend, "Getting partnerships right is difficult. You really need someone who's going to behave like a partner and not an adversary. It seems obvious, but in fact it's very difficult to accomplish in most technology environments."
One example Mr. Townsend gave was for an OEM partner. If a company integrates a partner's product into their own technology, and that partner hasn't built the product well, doesn't provide solid back end support, or if their company folds and the product is no longer available, then the partnership can become toxic and unsustainable.
Mark Foege reiterated that strategic successful partnerships are built on three core components:
Powerful solutions
Minimized cost
Minimized complexity
These components ensure that the product will not only be affordable and easy to use by end users, but the products will be powerful, and by integrating or selling them a business will be able to grow new revenue.
At the end of the day, a business only wants to partner with a technology company that has a good reputation. Mr. Foege recounted, "I was recently speaking with one of our partners, and I had asked them, what's important to them when they partner with somebody. He said, my reputation is only as good as the reputation of those that I partner with, and that's why they were excited to partner with Townsend Security. We realize that everything we do impacts the reputation of our partners. That's why it's important to us to provide solid, high value products, to make sure we are offering consistently first class support, and we work with our partners to make sure that their customers are completely delighted."
When it come to encryption and encryption key management, having a strong, trustworthy partner is critical to your success in providing strong data security to your customers. Encrypting sensitive data is easier than ever, and protecting encryption keys is easier today as well; however, providing these solutions without thorough back end support from your encryption key management vendor can be disastrous. That's why Townsend Security provides extensive support, knowledge, and training to all of our partners as well as marketing materials, encryption libraries, and many other resources to make offering encryption a painless task.
To learn more about Townsend Security partnerships, watch the full video below or visit out partner page.