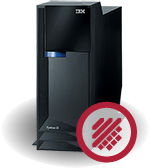 FIELDPROC has been out for just over a year and there have been several Program Temporary Fixes (PTFs) that affect the FIELDPROC implementation issued by IBM. These PTFs are related to data masking, triggers, and other aspects of FIELDPROC. Although there haven't been many changes within the past few months, administrators need to be aware that in order to be up-to-date and current on V7R1, cumulative patches (PTFs) need to be applied.

Issues in the program can occur if you are not up-to-date. For example IBM added a new parameter in a PTF that is utilized in a called FIELDPROC program. As an encryption provider, we had to make changes to support that additional parameter. If your V7R1 system has different updates than your encryption vendor, you may run into usability issues. If you are just now updating your V7R1, it is good to know that all PTFs have been rolled up into the most recent cumulative PTF package which is available on the IBM website.

If you are just updating to V7R1 now, you will get all of the PTFs automatically; however, if you installed V7R1 six months ago we recommend that you make sure you are up-to-date.

To learn more about FIELDPROC and V7R1, listen to "IBM i Security - Skip V6R1 and Updgrade to V7R1" - one of our most popular podcasts!