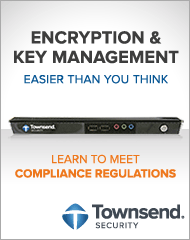 Did you know that any organization that handles sensitive information (PHI, PII, etc) is can be audited in the event of a data breach? You may be asking yourself, what does a security auditor look for? I recently sat down with Patrick Townsend, President & CEO of Townsend Security, to discuss how organizations can set themselves up for success when they get audited.
Patrick Townsend:
"First of all, in my experience, companies will have different experiences with different auditors. Some auditors will be more knowledgeable about certifications and encryption best practices than others. However, there are three critical components of data security that all auditors will look for:
1. NIST-Certificated Encryption and FIPS 140-2 Certified Key Management
One problem that we see companies face is that they are using encryption, but have implemented non-standard technology, which almost never withstands proper scrutiny. At Townsend Security, we stand behind our standards based products because they have gone through rigorous testing by NIST chartered testing labs. Our AES encryption is NIST certified and our encryption key manager is FIPS 140-2 certified — which means they have been independently tested and certified to meet best practices.
2. Security Best Practices
Use best practices of dual control, separation of duties, and split knowledge. These three practices are parts of NIST encryption key management best practices and are critical to your security posture. As a company, you must insist on employing these practices in order to meet the highest standards of data security.
3. Policy Based Security
Invest in policy-based security. This type of security will be developed to deploy data protection with all data security regulations in mind—both federal and state. Every company falls under state and proposed federal privacy laws, and therefore, companies handling sensitive data will do better to use certified data security solutions built by companies who can tailor their products to meet an organization's individual needs.
Here at Townsend Security we are always moving forward with you, our customers, to help meet a variety of compliance regulations with the most standard, up-to-date, and industry-certified security solutions. We want to help our customers always pass their security audits with flying colors!
Download a free 30-day evaluation of NIST-certified Alliance AES Encryption to start meeting compliance regulations (PCI DSS, HIPAA, etc.). Additionally, learn how to easily store encryption keys separately from your encrypted data with a secure encryption key management HSM by visiting our Encryption Key Management Simplified Resources page.