Cancer, directly or indirectly, affects everyone somehow. It cares not about age, sex, wealth, your faith (or lack of it). Cancer can develop in almost any organ or tissue in your body.

Townsend Security's team has been struck three times by cancer. So in true Townsend spirit we don't just sit around and do nothing, we FIGHT BACK and support each other and our communities!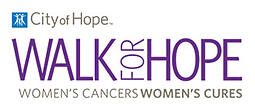 October is national Cancer Awareness Month, so to support those we love and those who have been afflicted, a few of us from Townsend Security flew to Chicago to participate in the City of Hope's 2011 Walk for Hope. The City of Hope is an independent biomedical, treatment and education center. Founded in 1913, and driven by compassion, researchers and caregivers at the City of Hope strive to bring the world closer to a cure.

We joined Sharon Kleinerman, one of our Account Managers, and her team at The Glen Town Center for the start of our 5k walk/run! The Glen Town Center has been transformed from a naval base into a beautiful outdoor shopping ce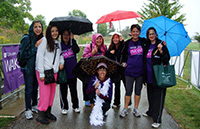 nter that includes a park with a lake and walking trails. The shopping was tempting, but we were here to raise money to fight cancer. Just as the walk was about to begin, a light drizzle began falling all around us and we became dubious about what the weather conditions might be for the rest of the day. Fortunately, just as the walk started, the rain let up. We began to think that we might actually have a dry walk after all. However, half-way through...the rain was back with a vengeance. The rain refused to let up but it couldn't dampen ours' (or any of the participants') excitement and enthusiasm. Finally, an hour later, we finished - a team of 8 soaking wet WINNERS!!
While participating in the Walk for Hope we learned facts about cancer that are good for everyone to know. Did you know that the four most common cancers in the United States are breast, prostate, lung, and colon cancer? Did you know there are simple ways to protect yourself against these types of cancer - things you can start doing today?
The Mayo Clinic offers 7 Tips to Reduce Your Risk of Cancer:
Don't use tobacco
Eat a healthy diet (THINK COLORS!!)
Exercise is your friend. Maintain an healthy weight and keep moving.
Protect your self from the sun - even in rainy Olympia, those nasty rays are everywhere and they get through the clouds. Just because you can't see the sun doesn't mean it is not there. Use sunscreen!!
Avoid risky behavior
Get immunized
Perform regular self exams - KNOW what to look for!!
Screening increases the chances of detecting certain cancers early, when they are most likely to be curable.
To learn more about how you can help:
The City of Hope
The American Cancer Society
St. Jude Children's Research Hospital

We invite you to take a look at all of our community sponsorships that we are a part of. You can also follow us on Facebook, Twitter, and LinkedIn to see what we are up to next.