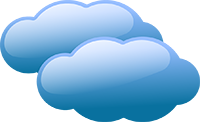 We've been tracking the growing need for encryption and key management to secure the mass of data that is (or soon will be) residing in the Cloud. To address this issue, a security group was recently formed that is completely focused on Cloud security. If you've not visited the Cloud Security Alliance web site, it is well worth a visit at www.cloudsecurityalliance.org.
The alliance has attracted top tier talent in the security and audit communities, and has published guidance on issues that should concern anyone considering deploying Cloud solutions.
The guide covers three basic models of cloud deployment – IaaS (Infrastructure as a service), PaaS (Platform as a Service), and SaaS (Software as a Service). It goes on to discuss the necessary differences to approaching security in the Cloud. It's a nicely done, high-level guide to security in the cloud.
Section 11 in the guide is on encryption and key management, which is the focus of our company and products. Their recommendations on encryption are spot-on. Because of co-tenancy and shared resource management on cloud platforms, security professionals recognize that there is an elevated risk of loss. Cloud users need to take extra steps to protect sensitive information. Encrypt data in motion, even between different applications and environments on the same cloud; Encrypt data at rest and in archival storage; Encrypt data on backup media and insure that you have access to the encryption keys in a non-cloud environment.
The recommendations on key management are also very interesting. The alliance has recognized that weak key management is much more of a problem in Cloud environments. Here is a sample and summary of some of their recommendations (you can get the full report at their web site):
Key stores must themselves be protected in storage, transit, and backup. Encryption keys should never be stored in the clear, and keys should never be stored on the platform where they are used.
Access to keys should be controlled, and the users of encryption keys should not be the ones storing and managing the keys. This means you should never use native operating system account management as the access control mechanism for key management.
Secure backup and recovery of key management systems is more important. There are special requirements for backing up key management systems.
Segregate key management from the cloud provider to avoid conflicts in the event of legal disclosure requirements. This will be a real challenge for companies that use Clouds for substantially all of their operations.
Insure that encryption adheres to industry and government standards. Of course, the only way to insure adherence to standards is to insist on NIST certification of encryption and key management solutions. For example, FIPS-140 certification should be a requirement for a key management solution.
These are just some of the recommendations in this important guidance. If you are considering the Cloud as a home for your applications and systems, this guide is definitely for you.
For further information, we have produced a podcast titled
Key Management Best Practices: What New PCI Regulations Say
.
Patrick