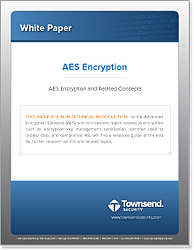 This is a non-technical introduction to the Advanced Encryption Standard (AES) and to important topics related to encryption. You will find a resource guide at the end of the paper for further research.
Topics covered include:
Encryption key management
Importance of NIST validation
Common uses to protect data
Regulatory compliance

Fill out the short form to the right to confirm your request to download the white paper!
Please share this informative content with friends and colleagues: